Camp Nirkoda Ba'Kerem 2019
Camp Nirkoda Ba'Kerem 2019
An Israeli dance and wine tasting adventure!
November 21-24, 2019
Wonder Valley Ranch Resort, Sanger, CA (near Fresno)

Photos from around Wonder Valley and from previous Nirkoda! events.
Dances Taught at NBK 2019
Music and videos are available on Google Drive. Dances taught at all prior camps can be found here.
| Dance | Type | Choreographer | Taught by | Singer |
| --- | --- | --- | --- | --- |
| Masa | Circle | Tamir Shalev | Mitch Ginsburgh | Eliad Nachum |
| Achat Mikulan | Circle | Yaron Malihi | Yaron Malihi | Yo'av Itzchak |
| Kum Kum | Circle | Yaron Malihi | Yaron Malihi | A-wa |
| Me'ever Lanahar | Partner | Gadi Bitton | Mitch Ginsburgh | Keren Peles, Ron Buchnik |
| Kama Yafim | Circle | Mitch Ginsburgh | Mitch Ginsburgh | Limor Oved |
| Lechabek Otach | Partner | Yaron Malihi | Yaron Malihi | Gil Vain |
| K'chi Et Libi | Partner | Yaron Malihi | Yaron Malihi | Avihu Shabat |
| Ha'Kerem | Circle | Gadi Bitton | Aaron Alpert | Ethnix |
| Lo Tamid Pashut | Partner | Mitch Ginsburgh | Mitch Ginsburgh | Roei Labes |
What is Nirkoda Ba'Kerem?
Set in the lush landscape of a private ranch, Nirkoda Ba'Kerem is all about community. Come join your friends — some you've known for years, and some you've yet to meet — for a fun-filled weekend of nonstop Israeli dancing located at the beautiful Wonder Valley. We'll enjoy the benefits of California's famous vineyards by incorporating a wine tasting adventure during the camp! Excellent wine and fantastic Israeli Dancing—what could be better?! Don't miss it!
---
Meet the Staff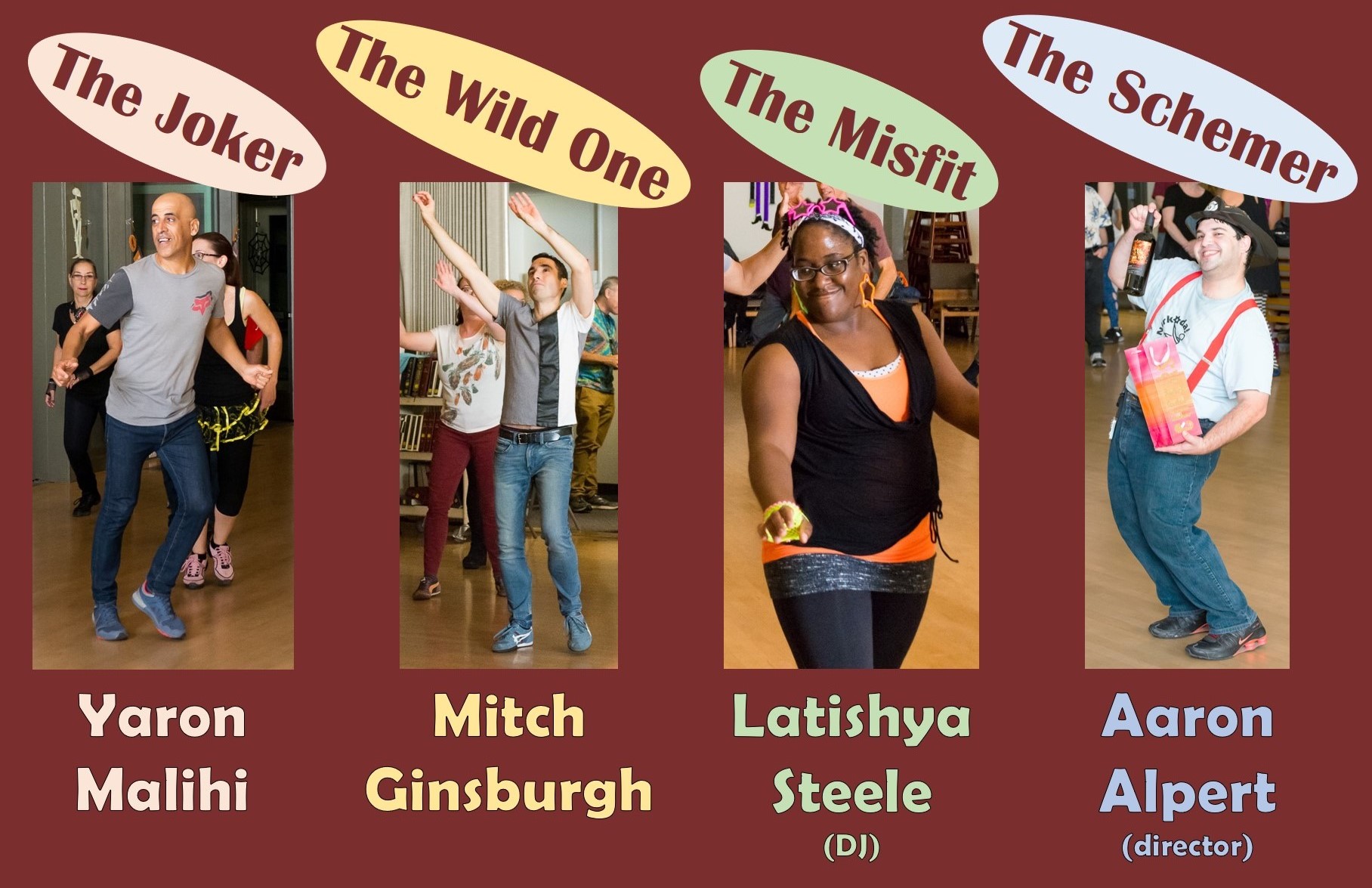 Yaron Malihi will be coming from Israel to share his infectious energy and friendly, outgoing personality. He's choreographed tons of wonderful dances such as Al Tishali, Ha'yom Ha'ba, Tzva'im, Bocha Be'seter, Derech Ha'shalom, Al Salsalim, Bein Arbayim, Metukim (with Dudu and Avi), K'sheat Rokedet, Ha'lailah Yesh Chagiga, Chatan Bar Mitzvah, Z'man Pitziot, Ad Ha'sof, Malach Sheli, and Shir Mehalev.
Mitch Ginsburgh may be young, but has already won the admiration of dancers across the United States at many different camps with his unique style and creativity. You're sure to love his exceptional talent and warmth. He choreographed Baba Kosmi, Op, Ansi Dize La Novia, Vilna Ga'on, and more.
Latishya Steele is our DJ, and she will keep you on your feet all night long — and well into the morning! Latishya started her dancing career in Boston and Chicago, and she is now one of the Bay Area's favorite teachers and programmers, with an incredibly deep repertoire and a talent for keeping the party going.
Aaron Alpert is your camp director and host for the weekend. His main job is to ensure that you're having an awesome time! This is his first "official" dance camp, but he's been teaching, running sessions, and organizing workshops in the Bay Area for 12 years. Let him know if there's anything that can make your camp experience better.

---
Housing Options and Prices
Please click on the detailed housing descriptions to make sure you are comfortable with the options as described.
Housing Level
Early bird
(by Oct. 12)
Regular
(A) Student (details)
      Up to age 25, in dorms of up to 10 people (same sex), individuals only
$320
$350
(B) Dorm (details)
      Up to 10 people (same sex), dorm style bathroom, individuals only
$400
$440
(C) Hotel — quad (details)
      Four people, one bath, individuals or two couples with prior arrangement
$470
$520
(D) Hotel — dual (details)
      Two people, one bath, individuals or couples
$540
$590
(D) Hotel — single(details)
      One person, one bath
$630
$690
In order to create a strong, unified, and consistent community for the weekend, we are not offering any partial registration (e.g., two nights, just the parties, guests).
---
What's Included?
Food
The prices above include all meals (Thursday dinner to Sunday breakfast) and snacks. Meals are kosher-style (no pork, no mixed meat / milk, no shellfish). For those requiring Glatt kosher meals, that will be available from L'chaim Foods, certified by Vaad Ha'kashrus, for a $120 surcharge.
Camp Events
Access to all Israeli dance and other camp activities (games, Shabbat services, etc.) is included.
Accomodations
We also include linens, daily towel exchange, and hotel-like amenities (soap, shampoo). For those in the hotels, there is also a Keurig and mini-fridge.

Wine Tasting
All levels include our signature wine tasting experience. Camp Nirkoda Ba'Kerem's wine experts have chosen several local vintages for you to sample as our sommelier helps you to identify the subtle flavors of each wine. For those participants who do not drink, we will have a simultaneous fancy non-alcoholic beverage tasting. All dancers have the opportunity to evaluate their favorites and to enjoy the hors d'oeuvres selected for their harmonious pairing with the wines.
---
Schedule of Events
The full, detailed schedule will be released as we get closer to the event, but to give you a general sense of what's going to happen...

Thursday
Friday
Saturday
Sunday

Morning
Learn new dances
Review dances that we taught
Learn a few more
Breakfast and goodbyes

Afternoon
Registration and welcome session
Specialty sessions (e.g., horas, partners, cardio,...)
Specialty sessions (e.g., oldies, debkas, international,...)
Evening
First dance party (until ~2 AM)
Shabbat
Second dance party (until ~4 AM)
Wine tasting
Havdallah
Third dance party (until ???)
Note that we are aiming to learn approximately 8 dances over the course of the weekend.
---
Getting There
Wonder Valley is a pleasant 3 hour drive east from Silicon Valley, and we encourage you to carpool, and we will even help to arrange carpools. For those coming from out-of-town, you probably want to consider San Jose Airport (SJC) or San Francisco International (SFO). SJC is about 30 minutes closer, but SFO has more flights. There is also a small regional airport, Fresno Yosemite International (FAT), which is a 35 minute drive from the camp, but there are fewer flight options. From FAT, Wonder Valley offers a shuttle for a fee, you can take a cab, or you can arrange for another dancer to pick you up on the way.
Address: 6450 Elwood Drive, Sanger, CA 93657. Click for Google map and local directions from the camp.
---
Policies
All participants must sign a waiver of liability. A deposit of $100/person is needed to confirm your reservation. To receive the Early Bird price, full payment is due by October 12, 2019. Full payment for all participants is due by October 21, 2019, and failure to pay the full amount by that date will result in the loss of your reservation as well as forfeiture of all payments. Requests for cancellation must be made in writing no later than October 21, 2019, and are subject to a $100/person cancellation fee. After October 21, 2019, no refunds will be made.
We accept credit card via the online registration form, with a 3% processing fee. You can also submit check or cash payments.
No pets or other animals may be brought to camp (except service animals).
---
Questions?
Email registration@nirkoda.com.
Sign me up! Click below for the registration form.