Nirkoda Mi'Nona 2016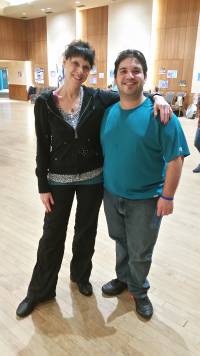 Thanks to Nona, Loui, Karina, Latishya, and all of you for a great event!
About the Teachers
Nona Malki is an exceptional choreographer, always creating memorable and elegant dances, such as Romeio, Bricha, Kol Mila, Bein Yadecha Ha'lailah, Sod Ha'ahava, and so many more. She comes to us from Vancouver, BC, where she teaches and programs weekly. We are so excited and lucky to welcome such a dynamic and gracious markida to the Bay Area!
We will also learn a few dances from our talented local Israeli dance teachers, Karina Niederman, Loui Tucker, and Latishya Steele! Karina and Loui are master teachers, each running energetic and lively sessions in the South Bay. Latishya, a recent transplant from Boston, brings a deep knowledge of Israeli Dance and a wealth of teaching experience. Aaron Alpert will be DJing and organizing the event.
Schedule and Location
All events take place on Saturday, September 24, 2016.
Morning Workshop, 10:00 AM - 12:30 PM, at St. Andrew's (map)
Afternoon Workshop, 3:00 PM - 5:30 PM, at Etz Chayim (map)
Evening Party, 8:30 PM - Midnight, at Etz Chayim (map)
The two locations are next to each other and are located at 4161 (Congregation Etz Chayim) and 4111 (St. Andrew's United Methodist Church) Alma Street, Palo Alto, CA. They share a lot, and there's plenty of free parking.
Pricing
Early bird pricing ended on Sept. 17, but you are still more than welcome to sign up! You can pay in advance or pay at the door. All participants will receive a digital download of the music and videos of the dances taught. Inquire with Aaron about student prices.
Event
Price
Package: All 3 Events!
$60
Morning Workshop
$25
Afternoon Workshop
$25
Evening Party
$20
Please make sure to fill out the registration form before paying.
Cash— Please hand cash payments directly to Aaron Alpert or pay at the door.
Check— Make out to "Nirkoda" and either hand to Aaron Alpert, pay at the door, or mail to 44 Olmsted Road #238, Stanford, CA 94305.
Credit Cards and PayPal— Note that a small processing fee is added for credit card transactions. You can have Aaron Alpert swipe your card ahead of time, have it swiped at the door, or you select from the drop down menu below and check out online. On the PayPal Checkout page, change "Quantity" to the number of people for whom you are paying.
Questions
For all questions, please contact Aaron Alpert at aaron@nirkoda.com or (818) 687-9717.