Alternate Location for July 16, 2016, Party
Submitted by

AaronAlpert

on 11 July 2016 - 4:47pm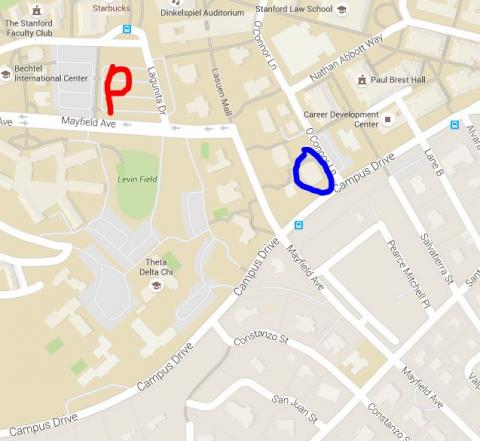 Etz Chayim had to cancel on us due to floor maintenance. For July 16, 2016 only, we're going back to Stanford Hillel (yes, that's where Nirkoda! used to be until 2012). Details:
Saturday, July 16, 2016
8:30 PM - Midnight
Stanford Hillel - Friedenrich Dining Hall
565 Mayfield Avenue, Stanford, CA 94305 (map)
On the map above, the "Koret Pavilion" building is indicated with a blue circle.
I suggest parking in the Mayfield Lot, indicated with a red P. "A" and "C" permit parking spots are free on weekends, but make sure not to park in a residential permit spot enforced 24/7. Just read the signs.